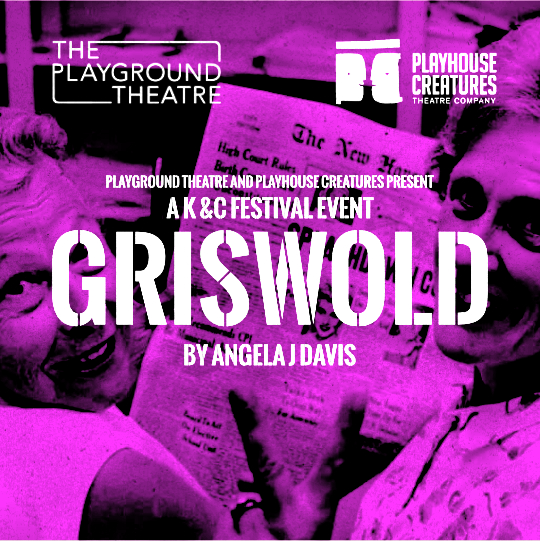 GRISWOLD: A London Community Reading LIVESTREAM
August 31st, 2pm EST (live) w/ access thru September 7th
This reading is presented in collaboration with Playground Theater London. Community members and actors will read side by side — no experience necessary.
50% of Livestream ticket sales will be donated to The Pink House Fund.
ABOUT GRISWOLD
The landmark and now increasingly relevant, United States Supreme Court case, Griswold v. Connecticut, struck down laws prohibiting birth control, established a right of sexual privacy, and directly paved the way for other guarantees of liberty, including, on the 60th anniversary of the Griswold case, the right of same-sex couples to marry.
Fusing docudrama, magical realism and comedy, Griswold mines the extraordinary events leading to the Griswold v. Connecticut case and the essential link between the right of sexual privacy and human dignity.
This event is part of a wider season celebrating femininity and LGBTQIA+ rights.
Anthony Biggs, Co-Artistic Director of The Playground Theatre, said: 'This mini-season incorporates the three strands of our work at The Playground: Community, Development and Production. I am delighted to be celebrating stories by and about older women, with writing that focuses on LGBTQIA+ rights, performed by our community, alongside some of our most accomplished artists."
Well Read Live! is the audience facing strand of our wellbeing, play-reading group, which runs every Wednesday at 11:15. We will soon be running specialist LGBTQIA groups, including reading, theatre skills workshops, support networks and more. Get in touch with phil wellread@tyheplaygroundtheatre.org.uk for details.
ABOUT THE PINK HOUSE FUND
The Pink House Fund is an abortion fund dedicated to assisting women wanting and needing abortion care nationwide. The Pink House Fund was started to support women going to the only abortion clinic in Mississippi, the Jackson Women's Health Organization in Jackson, MS. Unfortunately, the one and ONLY abortion clinic in Mississippi closed its doors on July 7th due to the Supreme Court overturning Roe v. Wade. Not only are we The Pink House Fund for our clinics, including our new clinic in Las Cruces, New Mexico — the Las Cruces Women's Health Organization Pink House West we offer funding to women all over the United States seeking abortion care.