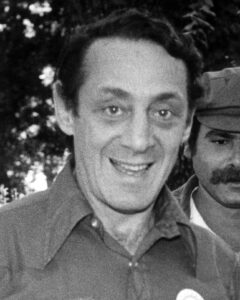 About the Play
This ground-breaking play by Emily Mann marks a transformational moment in our history. Crafted entirely from trial transcripts, reportage, interviews with politicians, police, family members and every-day people effected by the events, EXECUTION OF JUSTICE explores the 1979 murder trial of Dan White and the traumatic aftermath of the assassination of San Francisco mayor George Moscone and City Supervisor Harvey Milk (the first openly gay elected official in the history of California).
This skillful revival directed by Mark Armstrong confronts ongoing issues of racism, homophobia, sexism, and truthtelling in the lives of ordinary humans, chronicling the political violence that divided a city, and continues to divide America – as well as the possibilities of change.
Cast
Michael Esper, Pascale Armand, Frank Wood, AnnaSophia Robb, Kevin R. Free, Mia Katigbak, Kate Hamill, Lou Liberatore, Thom Sesma, Andrew Hovelson, Daniel K. Isaac, Jordan Lage, Joseph W. Rodriguez
Proceeds go to support PCTC youth theatre programming, which includes the Harvey Milk High School theatre residency.
Buy Tickets
Calendar of Events
Thursday, October 21st: Panel Discussion
PCTC will host a panel discussion of Emily Mann's theatrical masterpiece EXECUTION OF JUSTICE.
Panelists will include:
Emily Mann (author, EXECUTION OF JUSTICE)
Mark Armstrong (director EXECUTION OF JUSTICE)
Lou Liberatore (Tony-nominated actor/activist, cast member EOJ)
Daniel K. Isaac (actor/activist, cast member EOJ)
Joseph W. Rodriguez (producing artictic director PCTC, actor, cast member EOJ)
Kevin R. Free (actor/activist, cast member EOJ)
Nadine Strossen (civil liberties activist/ former president of the American Civil Liberties Union)
Martin Paley (former CEO San Francisco Foundation)
Students of Harvey Milk High School, NYC
Kate Harper (actor, cast member 2012 London production of EOJ)
Panel moderated by:
Erica Stevens Abbitt ( Professor Emerita, School of Dramatic Art, and a former director of the University of Windsor's Humanities Research Group)
Monday, November 8th: PREMIERE
In-person premiere of recorded play at Nuyorican Poets Cafe.
November 8th – November 12th: Access to Recorded Video Stream