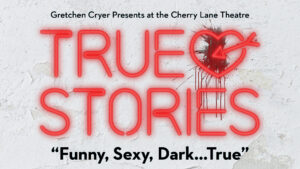 " Have you ever destroyed yourself in pursuit of love…. Because, same." 
.
.
Catch Alex Petrullo's solo performance
"Crave" in "True Stories"
at The Cherry Lane.
.
.
Performing 5 nights May 3rd-May 22nd
"Crave" is Co- Produced by Playhouse Creatures Theatre Company
.
About CRAVE

:
A hopeless young romantic moves to New York to pursue her dreams and falls in love
with a Bar Mitzvah DJ from Jersey.
Will this finally be the happily ever after she's always dreamed of?
Crave is a musical dramady written and performed by Alex Petrullo
(with some borrowed songs you may know) with musical direction by Nick Wilders
.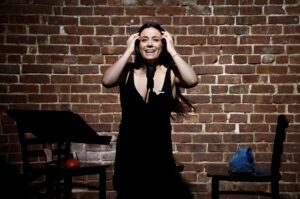 Crave Show Dates:
    May 3rd at 8pm
    May 7th at 4pm
    May 15th at 2pm
    May 18th at 8pm
    May 20th at 8pm
For tickets and more information visit: https://www.truestoriesplay.com/alex-petrullo.html
or scan the QR code
**Livestream is available for the May 15th 2pm show**
Co-Produced by Playhouse Creatures Theatre Company
.
.
TRUE STORIES is five full-length, new solo plays directed by Obie, Drama Desk, and Outer Critics award winner and theatre legend Gretchen Cryer.
Each play has five performances in repertory over three weeks in May 2022.
Featuring Jon Cryer (Supergirl, Two and a Half Men)
and Linda Manning, Abby Stokes, Alex Petrullo, and Steve Wruble.
.
Review from StageBiz.com
"What we get in "Crave" is a hilariously vulnerable piece of artistry… It's almost like watching "Sleepless in Seattle," Affair to Remember" and "Varsity Blues" all in one beautiful musical comedy. Alex creates real moments anyone can identify with. You really feel like you are having a conversation and getting to know someone without saying a word. Anyone who sees this will fall in love with Alexandra Petrullo.
For updates and #BTS (behind the scenes content) follow @alex_petrullo on instagram 🙂
See you at The Cherry Lane!